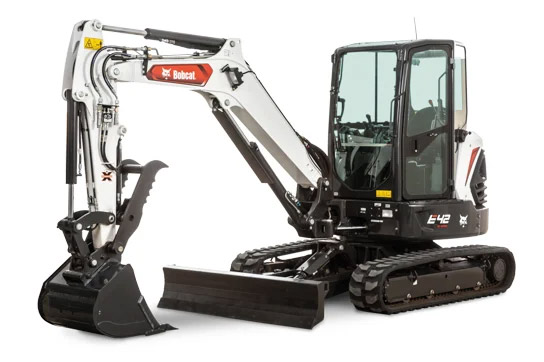 Compact Excavator E42-R2 Series (2022)
Bobcat
Multiple arm configurations
Overview
The E42 compact (mini) excavator offers enhanced hydraulic performance, improved efficiency and more precise control so you can push the limits and take on more complex work.
The redesigned Bobcat® engine improves performance, simplifies maintenance and maximizes uptime.
Multiple configurations — the optional long arm or extendable arm — increase your dig depth and reduce the frequency of repositioning the machine.
Standard features include low-effort joysticks that respond easily to operator input, an improved cooling system to control engine compartment temperature and a larger slew bearing with improved durability.
An optimized hydraulic control valve gives operators improved metering, finite movement and controllability for level grading.
Specifications
Horsepower: 42.6hp
Operating Weight: 9830 lb
Bucket Digging Force: 9601 lbf
Tail Swing: Conventional
Maximum Reach at Ground Level: 207.1 in
Width: 72.8 in
Engine Fuel: Diesel
Fuel Tank: 19 gal
Dimensions: 200.5 in. x 72.8 in. x 99.1 in.
Year: 2022
Serial Number/VIN: B4GM16395
Pick-up/Drop-off
TN Tuff Equipment Rentals
1196 Harve Brown Rd, Bethphage, TN 37022
Hours of operation
8:00am – 6:00pm