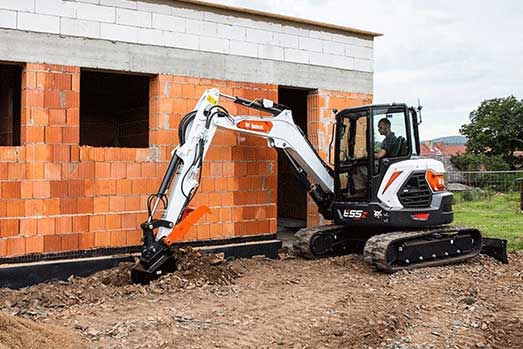 Compact Excavator E55 Series
Bobcat
Overview
The Bobcat® E55 compact excavator uses Kubota engine with powerful, low-noise, and fuel-efficient operation performance. In addition, the auto-idle function saves more fuel.
Powerful lifting and boom swing functions adapt to any complex condition and allow you to greatly increase work efficiency in narrow spaces.
The Bobcat® E55 compact excavator is equipped with advanced hydraulic components that maximize power, speed, predictability, and control ability.
Auto shift function provides you with better performance. The cabin also offers you more comfort options such as luxury dashboards, deluxe seats, heater and air conditioners, and more.
Specifications
Horsepower: 48.8hp
Operating Weight: 12,313 lb
Bucket Digging Force: 8977 lbf
Tail Swing: Conventional
Maximum Reach at Ground Level: 239.5 in
Width: 77.2in
Engine Fuel: Diesel
Fuel Tank: 21.1 gal
Dimensions: 206.4 in. x 77.2 in. x 100 in.
Year: 2020
Serial Number/VIN: AJ194499
Pick-up/Drop-off
TN Tuff Equipment Rentals
1196 Harve Brown Rd, Bethphage, TN 37022
Hours of operation
8:00am – 6:00pm